Author: Tina Gower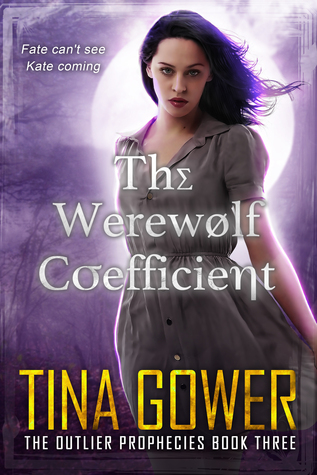 Genre: Urban Fantasy
Pages paperback 288
Published  May 2016 by Smashed Picket Press
Goodreads synopsis
Kate Hale thought she had her life in order. She'd made an arrangement with Ian Becker as his stand-in pack mate. Strictly professional. No after dark meetings. No more crawling through her window. No late night snuggle sessions. She even delivers a high probability death prediction on short notice. But Kate's wrong… about everything.
A case that should have been open and shut has more questions than answers. The woman Kate predicted doesn't die at her destined time, and someone else dies in her place. Now Kate and Becker must figure out what went wrong before the fates ripple back in revenge.
I received a free copy from the author in exchange for an honest review.
"I'd be rejoicing for her, patting her on the back, handing her tea and blankets, like the officers gathered around her, but I'm pissed. Because I'm the actuary. I'd assigned the probability of death."
Yes! I finally got the chance to finish this book! No, it's not because I had trouble getting through the book, it's because of my end-terms. But, I've finished it, and I'm so glad that I had the opportunity to read this.
This review will actually be quite short because, to be honest, Tina Gower is just a constant writer (meaning here that she keeps her writing the same so far). There are no real differences in the writing when comparing this third part to the first two books in this series, and I think that is a really good thing. This third book goes on where the second one left of, no gaps in time or other weird stuff, it just continues down the same road. I like it.
Again, Gower gives slightly more information about this world and how it works, it definitely kept my attention. Everything becomes more complicated the further you get into this series. The world gets more complex, society is further explained, secrets are revealed, and on a smaller level there are the personal issues between Kate and Becker (…I just can't mention Becker by his first name! It just feels wrong :')…).
I really liked the hints of information about the anti-fate movement, and specifically the complexity of it, because it appears that there is far more than meets the eye. The further on you will get in the book, the more interesting the matter becomes, since it seems that there are more people involved than originally thought. No matter what happens, they always seem to be two steps ahead.
The character development also continues throughout the book. There are among other things, again, some small hints to Becker's past and I really liked the Ali-shock-moment (that's what I like to call it. If you read the book you'll probably understand). I didn't see that moment coming at all, and I was ready to scream. Truly, I never thought that I would care so much about the whole Kate and Becker semi-relationship, until I read that.
One thing that I specifically liked was Ali's role in this book. I already loved her character, but it appeared like she wouldn't get any big role in this series, so I didn't get my hopes up. However, her character is more involved in this third book and I really hope that she will grow more into the main storyline.
Overall there was a steady pace as the story continued, no unnecessary detours and the suspense is really starting to get to me now, so I really really want to now what happens next. I liked how Gower keeps here writing consistent and I liked the hints she put into this part of the series. And because consistency is a thing with this series, I will give this book 3.5 stars.