Top 5 Wednesday is a weekly book meme created by Lainey from  gingerreadslainey, and is hosted by Sam from ThoughtsOnTomes. If you want to take a look at the Goodreads group, and perhaps even want to join, you can click this link.
It has been some time since I did a Top 5 Wednesday. It seemed like it was only last week that I write about the books that took me the longest to finish, and now it is already November! I've already done some mid-term exams, am completely stressing out for my end-terms in December, and have seriously considered retiring early… Unfortunately that wasn't a possibility, and so here I am! Procrastinating in all my glory.
This week's topic is *dramatic piano play* Most Misleading Synopsis.
This week's guidelines
— Ever read a synopsis and think it sounds dumb, but then you read the book years later and it's actually amazing? Ever read a synopsis and think it sounds amazing, but it actually turns out to be nothing like the synopsis? Ever have a synopsis spoil something that happens 75% of the way into the book so you just spend most of your time waiting for that one element you already know? This is the topic for you.
I can definitely work with that! At least, I hope I can haha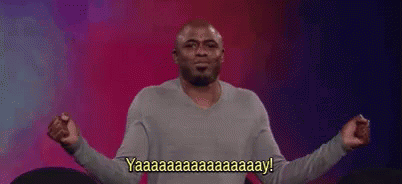 And there are going to be more gifs in this post 😀
So, here is my Top 5 Wednesday of Most Misleading Synopses (in no particular order, with covers and synopses from Goodreads):
Terry Goodkind: Wizard's First Rule.
What went wrong… I still don't understand. Yes, I will NEVER be able to let this go :') I was promised so much epicness, and all I got was an annoying prick and a book that was all about a relationship that could never ever happen… Resulting in my thinking:

Kim Harrison: Dead Witch Walking.
The blurb on Goodreads wasn't that motivating. I thought that I already knew in what direction the book would go… But it didn't go there at all, and the book turned out way better than I thought it would! I've even bought the sequel and found the third book for a bargain, so yeah… I'm going to reread this one and write you guys a review ^_^ (Proud of me).

Robin Hobb: The Dragon Keeper
Great book… But a synopsis that just covered about everything in it. That was a bit of a bummer, but luckily the book was a good read, and it had enough little extras.

Kelly Armstrong: Bitten
Yeah, the synopsis predicted drama… and yes there was drama,  but it was fun to read. Unfortunately, the synopsis made me postpone the reading of this book for months, simply because I disliked the predicted: I'd-love-to-run-away-and-hide-drama (and that's something I wasn't looking forward to…)

Kristin Cashore: Graceling
A synopsis that made me doubt a bit. This book could be either very awesome, or not really it (if you understand what I mean). It was entertaining at moments, but I was a little disappointed as well since I'd expected more I suppose…

---
This was my Top 5 Wednesday Most Misleading Synopses. Have you read any of these books? What did you think of them after you've read them and their synopses? But, most importantly: What is your Top 5? Please leave your  thoughts in the comments! 😀